We Guide You to Your Next Home
We're here to be your advocate and partner throughout the home buying process. Our mission is to provide you with a seamless and enjoyable experience.
From leveraging the latest technology tools to assist in your home search to navigating local and legal ownership requirements, we'll get you through with integrity and collaboration. The more complicated parts of the process are where we excel. Let us share our expertise and passion for real estate with you.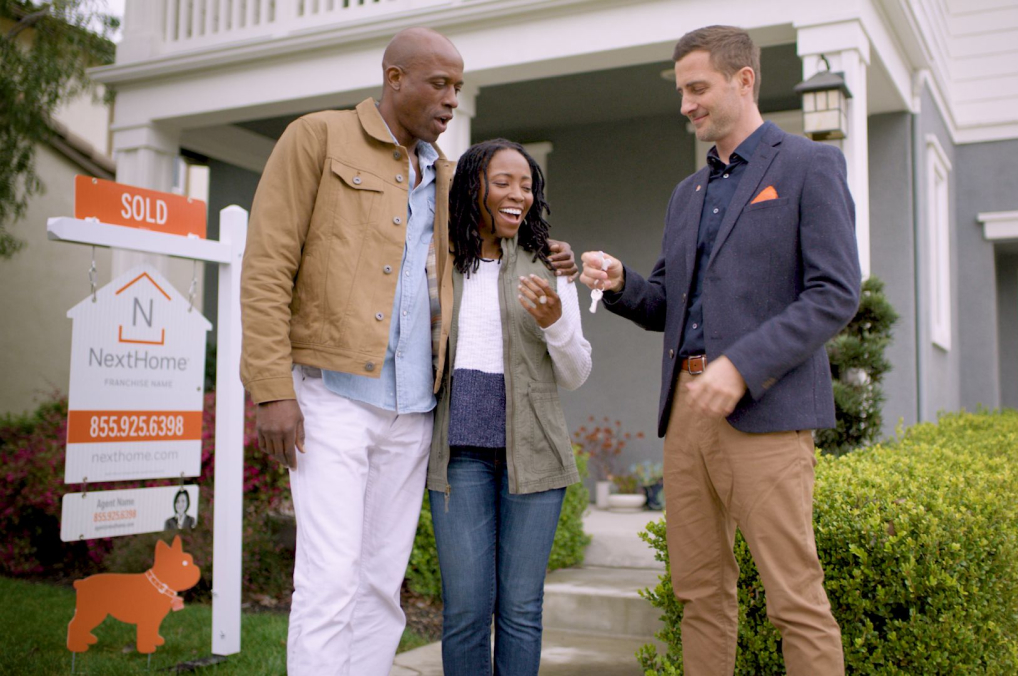 Buying a Home, the NextHome Way
Testimonials
" I loved working with DJ. You can always tell a business person's character and professionalism with how they handle the bumps and bruises that inevitably come with our business. He handled everything with grace and respectable sophistication. Our jobs are difficult; patience and pose means so much. "
- Kimberly Keith (Loan Originator )
" DJ was always helpful and there to assist when needed. "
- Karen Salgado
" Dj and his wife (Kim) did an excellent job on this transaction. My wife and I were looking at a totally different style property and they knew this would work for us. They handle the whole process beautifully and I would not work with anyone else in the future. "
- BurretWill
" Great and easy to work with . We need more agents like him that makes our jobe easier and pleasant "
- Toni Singleton (Escrow Agent)
" Darrell (DJ) was one of the best realtors I have worked with. He was easy to get a hold of and to talk through issues with. He was upfront and honest about the process, had great advice when we needed it and followed through with everything he said he would do with efficiency and thoroughness even under some less than ideal circumstances. We could not have asked for a better experience. "
- Craig E Roush (Home Owner)
" DJ was very helpful during the whole process of buying our home. He took care of us every time we needed it and this is a lot less stress for us. We highly recommend DJ for doing business with. Thank you DJ "
- Francoise Dupoux (Retired)
" Great communication. Always on top of the need of the transaction. I look forward to continue working with DJ in the future. "
- Ricardo Rojas (Loan Consultant at Caliber Home Loans)
" DJ did an excellent job helping me and my wife sell our house. It was our first ever time selling a house, and we were worried that it would feel like chore to get it done. However, DJ guided us through the process with ease, and every step of the way ensured we understood what was happening while making it feel effortless. I would not hesitate to ask for DJ's for assistance for any real estate business I have in the future. "
- Javier Perez
" DJ is just what you are looking for in a Real Estate Professional! Thank you DJ for taking good care of our buyers. CG "
- Chip Gregory (VP Mortgage)
" DJ, I wanted to reach out and give you a big THANK YOU! It has been a pleasure working with you and NextHome, with not only the purchase of our new home but the sale of our other home. You have proven to be a superior realty expert. Shelly and I have nothing but praise and gratefulness for you and NextHome. We have bought and sold a few homes in the past 25 years but, I have to admit that the process this time has been nothing but pleasant. Thank you, very much. I will be recommending your expertise to everyone that I know. Shelly and I look forward to seeing you around town. "
- Richard and Shelly Mueller (Manufacturer Representative)
" My wife and I have recently sold our home. DJ from NextHome Neighborhood Realty, was our realtor who was recommended to us via word of mouth. DJ was always professional, gave us the right amount of guidance and insight so that we had all the information needed to make the right decision(s). He kept us on the "straight and narrow" regarding selling our home , but was never pushy or intrusive and worked around our somewhat limited schedule. Our home sold in about a month and a half and was pretty uneventful, which is what you want - uneventful means less stress! I would recommend DJ French to anyone looking for a realtor. "
- Robert Chanley
" DJ was very professional and maintained communication throughout the transaction. He was knowledgable, helpful and helped problem solve when necessary. He facilitated a successful sale/purchase and easy close. I welcome the opportunity to work with DJ again! "
- Brenda Feliciani (Realtor and owner of Southern Sisters' Restoration)
" Kim and DJ were super helpful in helping buy and sell in a crazy market. They helped explain everything during the process which we really appreciated. "
- Michael Dillon (Director of Marketing )
" DJ was a consummate professional and his diligence and quick work allowed us to purchase a home against a cash offer. Through several real estate transactions, DJ has always communicated well and gone above and beyond to make a deal happen. We could not be happier with the service we received from DJ and Next Door "
- Robert Hutchinson (Financial Manager - United States Army, PEO STRI)
" Dj did a great job selling my condo. I had another agent prior to DJ and he could not get it under contract. DJ had it sold and closed in less than 45 days. The transaction was smooth and he handled everything. I have since moved out of state but would use him again if the situation arises. "
- AJ Monica (VP of Sales)
" Working with DJ is like working with an Eagle Scout. He is honest, friendly, helpful, knowledgable and trustworthy. He felt like a part of my family! I have already referred friends and family to him for their home buying needs. I feel so blessed that I happened to meet him by chance, while looking at another property. He made everything easy - never a worry. "
- Barbara Atkins
" I love working in partnerships where everyone's primary goal is to have happy clients and a smooth closing! Everyone play's their part, but when an exceptional team forms the process is seamless for the clients! I truly appreciated working with you and look forward to doing it again! "
- Meli Trujillo (Escrow Officer)
" DJ was awesome to work with! Professional, responsive, and friendly. Would be happy see him on the other end of a deal anytime! "
- Katie Ballinger (Closing Manager, Realtor)
" It's always a pleasure working with DJ. He understands the process and tries to anticipate any issues before they arrive. Anytime I contact him to ask for something, he either has or has already asked for it. "
- Toni Sweeney
" DJ was our realtor for buying our first home and selling it later down the road. We highly recommend him!!! He is professional, knowledgeable, honest, and someone we could call a friend. We will absolutely call DJ with any of our home buying and selling needs. If you or anyone you know in the Casselberry/Winter Springs is looking for a reliable realtor look no further than DJ French. He's the best!!! "
- Kasey & Sandy Cruz McBride (Buyer and seller)
" DJ made the process of selling my mother's home far easier than I ever imagined. He was very patient, helpful and understanding with me during this very difficult time. He walked me through everything and always kept me informed of anything that was going on no matter how big or how small the issue and I appreciated that so much!! I was given a weekly automatic update each Monday as well and that was very comforting. He was very accessible and let me know that if I had ANY questions or concerns to reach out to him at ANY time. At our closing - the buyers Realtor made a comment that I had a very good Realtor representing and handling our transaction and was a pleasure to work with - I couldn't agree more!! If I hear of anyone looking to buy or sell I will definitely give them DJ's contact information. I can't thank him enough for taking care of this for me!! "
- Janet Boydston (Administrative Asst)
" DJ found things we might have missed and got us a great deal!! "
- Michael Dumblewski
" DJ was amazing and so helpful with our new home ?? and our old house ?? that we sold. He stayed on top of all details and provided invaluable direction and information throughout both processes. We would highly recommend him and his wife Kim to all prospective buyers and / or sellers of Real estate. Thanks ?? DJ and Kim "
- Terry L Krick
" I so enjoyed working with DJ and his wife Kim. Being a seller from out of state, we needed to depend on them for everything during the transaction and they went above and beyond. I would highly recommend them. "
- Maggie Brodbeck
" I recently had the opportunity to negotiate a purchase of a home with DJ. We were able to work all the details, contracts, addendums and phone & text communication smoothly and promptly, resulting in an nice and smooth transactions for all of us..Great Job DJ, and thanks for being so helpful and a true professional. "
- Miguel Cabrales (Realtor-Oviedo FL area)
" DJ did a great job under a tight time frame. We entered into a contract to purchase new construction with a contingency on the sale of our existing home. Without his willingness to go more than the extra mile, neither sale would have occurred. I am happy to say that our house sold and we closed on our new home all within deadline! And it was all due to DJ and all the work he did behind the scenes to make it all happen. "
- Mary Lee Carter (Customer)
" My husband and I were searching for a first home, so you all know how stressful and daunting that can be. Agents blow up your phone left and right trying to give you the hard sell. Somewhere in the chaos, I stumbled upon DJ very early on in our search and we couldn't be happier we chose him! From the beginning, DJ was much more down to earth than any other agent I'd spoken to. What a relief! We ended up finding the perfect home almost immediately and thanks to his excellent negotiation, we got it for a fantastic price. I would recommend him to any first-time house hunters: he will be there to guide you though every step. Thank you so much for everything, DJ! We will look you up again when we make our next move! "
- Katherine Ott (Electrical Engineer Co-op/Student)
" DJ was amazing to work with! He communicated with our office on everything that was need for this transaction. He had a great relationship with his Clients which makes things a lot easier for Title. Thanks again DJ for your hard work, we look forward to working with you again. "
- Cass Hannon (Processor )
" DJ was a pleasure to work with. Great communication! "
- Christian Rosado (Loan Originator)
" DJ was great to work with. He helped us buy and sell our homes. He was on top of everything and we received full price with multiple offer's. He even reminded us about our first mortgage payment coming up. Looking for an agent that isn't just about the sale but also about relationships then DJ French is the realtor for you. "
- Shelly and Richard Mueller
" DJ was a great help with helping my husband and I in finding a beautiful house. He was very informative, and always kept us updated with any news, or issues to do with the house. He was a great help with keeping on top of any issues, that needed to be fixed, etc. I would recommend him to anyone who needs help wanting to buy a house. "
- Jeanne Bullock
" My wife originally found DJ online while searching for local agents with strong recommendations. After buying our first home with his help, it's clear why he earned them. He was there through every step of the process, helpful, friendly and always keeping us abreast of what paperwork needed to be done and when it needed to be submitted by. To any prospective first-timers, that last one is an enormous task in and of itself. If and when the time comes to move on from this place, there's no question who we'll be hiring. Thank you for all your help DJ! "
- Geoff Ott (Resident)
" I had a great experience working with DJ French and his team. He was on top of everything and we were ready to close almost a week before the scheduled closing. That made the process so pleasant. I would gladly refer him to other home buyers. "
- Rodney Jolley (President)
" REALLY A PLEASURE TO WORK WITH A PROFESSIONAL WHO HAS A POSITIVE ATTITUDE. "
- JUDITH SACKETT (OWNER - BROKER)
" DJ was a pleasure to work with and his communication was terrific! I look forward to closing future transactions with DJ. "
- Tom Flood (Mortgage Broker)
" DJ was amazing to work with! He helped us sell our home within a matter of days! Very professional and compassionate. He truly is a GEM to work with. We would recommend him to anyone looking to buy or sell! "
- Shannon rowell
Previous
Next